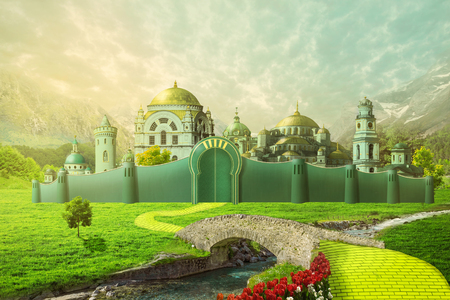 It has been nearly 80 years since we skipped down the Yellow Brick Road with Kansas farm girl Dorothy and her three loyal pals: the Tin Man, the Scarecrow, and the Lion. Timeless and classic as ever, "The Wizard of Oz" still delights audiences young and old with its catchy show tunes, dazzling colors, and the heartwarming message that there truly is "no place like home."
Dozens of screenwriters worked together to adapt L. Frank Baum's children's book into the musical film we know and love today. Now, the world's largest auctioneer of original Hollywood memorabilia, Profiles in History, is holding an auction with more than 150 handwritten pages of manuscript highlighting the evolution of "The Wizard of Oz."
The auction is to include the first three original drafts of the screenplays written by Noel Langley, lead screenwriter for the movie. The three drafts date between April 5 and May 14, 1938. The auction also includes Langley's fifth draft from August 1938 and the movie's fourth draft written by Florence Ryerson and Edgar Allan Woolf. Fans of the movie will love reading the draft scripts highlighting the treasured film's genesis and development.
Other beloved tokens from "The Wizard of Oz" up for auction
Fans of the movie will not forget the iconic tornado sequence that first brings Dorothy to Oz. About 16 photos of the tornado scene and other special effects are included in the auction. An additional lot includes Margaret Hamilton's "Wicked Witch of the West" hat.
A private collector is selling the archive, which Profiles in History estimates will value around $800,000-$1.2 million. The auction will be held in Los Angeles from Dec. 11-14.
Be sure to check back with us at Smith & Co. Auction & Realty for all your auction industry updates! And if you're looking for the next live auction to attend, browse our upcoming auctions today!