Live auctions can be both exciting, and intense. They're incredibly fast-paced events, where auction-goers bid against one another in a format that can be dizzying if you're new to it. But actually, live auctions are a great place to find a deal—it's where the real value of an item can be appraised and debated. That's if you know how to score a bargain!
Prepare for the auction ahead of time
One of the best things you can do before a live-auction is research so that you know what to expect upon arrival. Browse through the items being sold at the auction ahead of time; that way, you can do your proper market research, find out what the item's value is, and be able to plan your bids accordingly.
Early bird gets the worm, or should we say bid?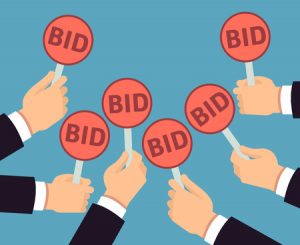 If you're planning on placing bids, then arrive at the live auction a half hour or so before it's set to start. By doing so, you'll be able to see the items you're bidding on, assess their condition, and adjust your bid plan, if need be. Get a bidding number the minute they start handing them out, so you're first on the list!
Get ready to bid
Listen closely for announcements and think on your feet. Account for any unexpected costs, like buyer's tax and other hidden fees. A live auction is quick and can be over in the blink of an eye, so you'll need to move fast.
With these tips in mind, you'll be set to score a bargain at any of the upcoming auctions from Smith & Co. Auction & Realty. If you have any inquiries, feel free to give us a call at 580-254-3975 today!