At auctions, you can expect auctioneers to be talking a mile a minute and buyers quickly waving their paddles in the air. Although the process is fairly simple there are many terms that an inexperienced bidder wouldn't know.
Knowledge of these common auctioneer terms can be the key to success: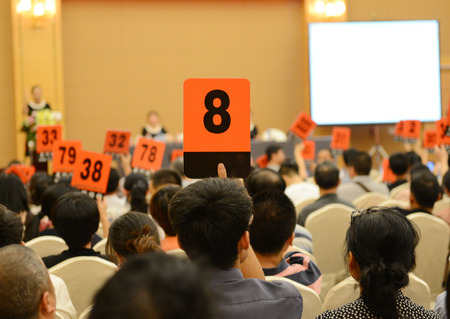 Auction chant
Known as "the chant," auctioneers' fast-talking styles date back to the 1920s. The chant consists of three parts: the statement ("I'm bid ten dollars"), the suggestion ("Ten dollars, twenty dollars"), and the question ("Do I hear 30?").
Filler words
Filler words are any words used between bids to keep the rhythm of the chant going. Each auctioneer uses words differently to create their own unique style. The use of filler words also gives buyers a brief moment to think about their bids.
Provenance
If you watch shows like Antiques Roadshow, you may be familiar with the term "provenance." Provenance refers to the item's ownership history, tracing back to its creation. A long and well-documented provenance can increase the value of an object up for auction.
Estate Auction:
The sale of property left by a person at his/her death. An estate auction can involve the sale of personal and/or real property.
Competing bid:
During a sale, the auctioneer may be accepting competing bids for an item from various sources; these include (but are not limited to):
bids from an in-house audience
telephone bids
book bids
absentee bids
other bidding platforms
Hammer price
The hammer price is the final, winning bid. The word "hammer" is a reference to the bang of the auctioneer's gravel or hammer that seals this final bid.
When you're planning your next auction, contact us at Smith & Co. Auction & Realty, Inc. and let us help you make it a success! We've been in business for over 30 years selling everything from farm machinery to ranches, as Northwest Oklahoma's premier choice for land and real estate auction needs!