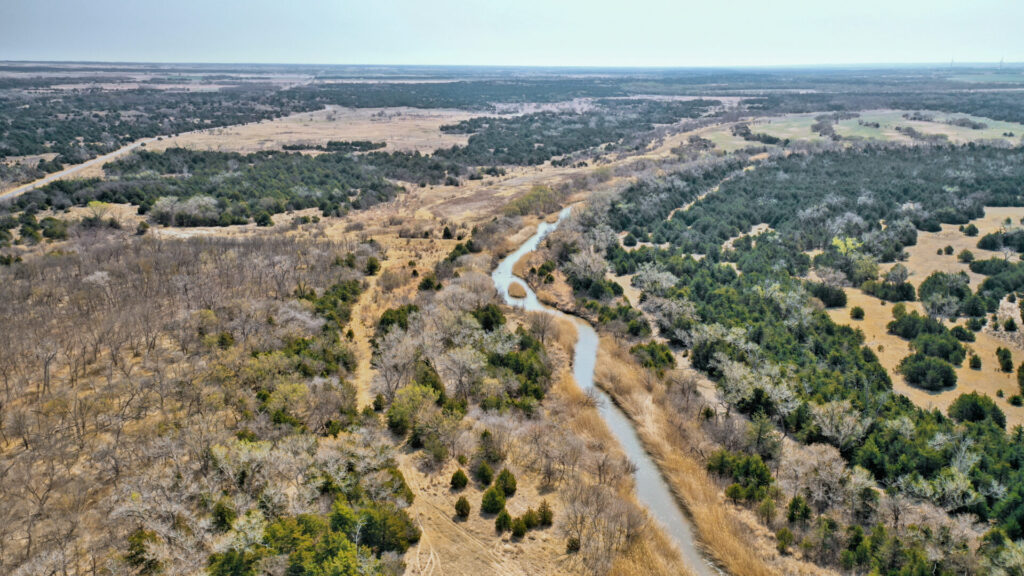 Live-on Site / Simulcast
Begins:
05/21/2022 10:00 am
Location:
52176 S. CR 217 Mutual, OK
View Sale Bill
Bid Online
Bidding from a phone or tablet? Try our bidding app!
Auction Description
TRACT 1 – 80± Acres, Home, Improvements
Location: Located at 52176 S. County Road 217, Mutual OK or from County Road 216 & Hwy 270 travel 1/2 mile north then one mile east on County Road 52 and south into.
Legal Description: Legally Described as 80± acres in the W/2 NW/4 of Section 33 T2N R18 WIM
This very nice farm is a total of 80± acres that is fenced and cross fenced with 60± acres in cropland and the balance in grass. The tract includes an older farm house with approx. 1,950 sq. ft. of living space and several updates. The home is a 4 bedroom (one is a loft bedroom), 2 bath home with central heat & air. It also has a storm basement and a large family room with atrium style doors looking south across the yard and irrigated farm.
This farm has an impressive irrigation well that, when drilled in 1974, pumped an estimated 2,000 gallons per minute. The well currently runs the 7 tower circle irrigation system* on the land and supplies water through an underground pipe to the land across the road. Several other improvements include a 40 x 78 steel framed shop building with 14' side walls and 1/2 concrete floor, an overhead door, and one side door on the east. The building is wired. Additionally, the property includes a hay barn, loafing shed, steel corals, cattle processing barn, and several livestock pens.
*Irrigation system pump, pipe, & motor belong to the current tenant and will not sell with the real estate. *
TRACT 2 – 4± Acres
Location: Located in Section 32 T21N R18 WIM
Legal Description: Legally Described as 4± acre beg. 591.57' S. of NE/c Sec. 32, then W 498.42'; S 873.96'; E 498.42'; N 873.96' to POB, less a 6 acre tract.
This 4.0 acre tract is immediately west across the road from the home in Tract 1. The land would be an excellent home building site with fences and trees.
TRACT 3 – 1,142± Acres • A Beautiful Ranch
Location: Located at County Road 54 and County Road 223 NW of Chester, OK »Auction Location will be at the Home Place 52176 S. County Road 217, Mutual OK
Legal Description: Legally Described as 240± acres in the S/2 NW and SW/4 of Section 32 T21N R17 WIM and 160± acres in the SE/4 of Section 32 T21N R17 WIM, Lots 1-6-7 & E 106.36' off E side; 118± acres in Lots 2 and 5 in Section 6 T20N R17 WIM; 534.38 acres in W/2 and SE/4, SW/4 NE/4 less Lot 6 in Section 5 T20N R17 WIM; 145.20 acres in N/2 NE/4, SE/NE 4 for a total of 1,142.58 deeded acres.
This ranch has beautiful grass bottoms with a surface water pond and several acres of sub irrigated land. The ranch is fenced and cross fenced with several water wells. The South Canadian River touches the south and southwest sides creating a great situation – the land receives all the benefits of having the river yet it doesn't segregate the property! The north end supports a rolling sandhill type terrain with good native grass and lots of trees providing good livestock grazing and excellent hunting of deer, turkey, and wild hogs. Black top county road on the south end and county road access on the east side provides easy access to the ranch. Don't miss an opportunity on an absolute beautiful ranch.
TRACT 4 – 53± Acres
Legal Description: Legally Described as a 53± acre tract of land in the NE/4 of Section 32 T21N R18 WIM
A 53± acre tract immediately west across the road from Tract 3. This land is fenced, has a water well, and offers great hunting and cattle grazing.
Personal Property
Personal Property sells immediately following the real estate.
New Holland TD95 Tractor w/ 820 TL Loader, shows 995 hours
80 Polaris Ranger, in good condition
Push Mower
Hustler Fastrak Zero Turn Mower w/ 17hp Kohler Engine
Hustler Raptor Zero Turn Mower w/ Kawasaki Engine
Honda 4-Wheeler Sportrax 25 EX
Gas Powered Air Compressor
Power Washer
Napa 225 amp Charger/Booster
Tools
Antiques
Grinder on Stand
Socket Sets
Wrenches
Craftsman Rototiller
Vise on a Stand
Chairs
Treadmill
Cream Cans
Welder
Computer Desk
Coffee Table
TV Table
Love Seat
Sewing Machine Table
Room Heater
Queen Bed Frame
Dresser
Full Size Bed Frame
End Table
Hide-A-Bed Couch
Barbed Wire
Electric Fence Posts
Approx. 200 Steel Fence Posts
Wood Fence Posts
Several Round Bale Feeders
Several Feed Bunks
2 Overhead Feed Bins, elevated for Cake Box Loading
WW Calf Cradle
Circle D Stock Trailer
2000 Ford 3/4 Ton Pickup w/ Cake Box & Arm Bed
Stihl Chainsaw
1952 IH Pickup w/ Title
12' Utility Trailer w/ Drop Down Tailgate
Skil Saw
Misc. JD Parts
Aluminum Ladders
Kenmore Gas Grill
Auction Preview
Contact Ira Smith at 580-334-6001 or ira@smithcorealestate.com to see this property or for more info!
Real Estate Photos
Farm Machinery Photos