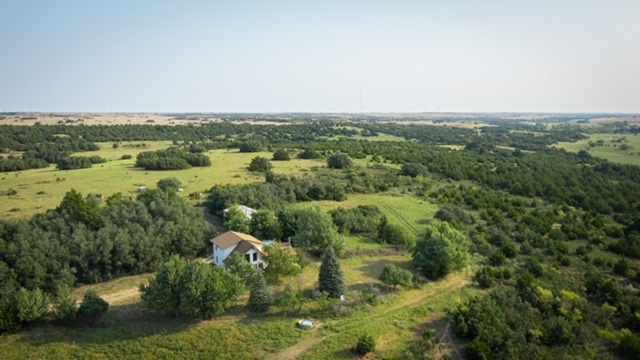 Simulcast
Begins:
10/13/2021 10:00 am
Location:
54610 S. CR 197 Woodward, OK 73801
View Sale Bill
Bid Online
Bidding from a phone or tablet? Try our bidding app!
Legal Description
67± acres in Lots 2-3 and 33.62± acres in Lot 4, all in Section 7 T20N R21 WIM, Woodward County, Oklahoma.
Land Location
From Woodward County Road 201 and Hanks Trail (High Plains Technology) , go south on County Road 201 for 9 miles then turn west on County Road Blacktop 51 for 3 miles, then turn south on County Road 198 for 2 miles then turn west for 1/2 mile then south on County Road 197 for two miles.
Auction Description
This home, built in 1989, has approx. 1,587 sq. ft. of living space. It is a 1.5 story home with 3 bedrooms and 2 bathrooms. The living room has large picture windows that look south across the land and provide an amazing view of the beautiful grass bottom and hay field with Persimmon Creek running through it. Land on the north side of the home has several trees and a big grass pasture that could accommodate livestock and wild life. This property is the one in the book and movies! It is a perfect get-away or hunting lodge setting OR big enough to accommodate a family. The property has it's own water well and several water hydrants. It also includes a nice shop building 30' x 40' with concrete floor and is wired. There are a few updates and finishing that could be done or use this property just as it is now.
Preview
OPEN HOUSE Thursday, Oct. 7th from 4-6 p.m.
For more info contact Ira Smith at 580-334-6001 or ira@smithcoauctions.com.
Personal Property Selling Online Only
Bidding Opens Sept. 27th and Closes Oct. 14th at 1 p.m. CST
Load Out is Friday Oct. 15, 9am – 5pm (Loader will only be there on the 15th to assist with Load-Out).
**This on-line only auction is set to "soft close." This means if someone bids in the last 2 minutes before the item closes, the bidding will be extended by 2 minutes allowing additional time for another competing bid.
John Deere 4020 Tractor w/JD 46 Loader 3pt, PTO, Propane, 6 Volt System, Runs
John Deere 3010 Tractor, PTO
500 gallon Propane Tank on Trailer
Organ with Bench
Piano (could have missing parts inside)
Hammond Organ
Television on Cabinet w/Stereo
Computer, Monitor, Keyboard, Table & Chairs
Cassette Tape Holder & Misc. Electronic Items
Embassy Clarinet
Dresser w/ Mirror, Ice Chests, Misc.
Books
Metal Chairs
John Deere Seat
John Deere Riding Mower #265
RotoTiller
Table Saw
Misc. Tools
Lawn Sweep
John Deere Front Blade for Lawn Tractor
Light Fixtures
Exercise Machine
Pipe Dog
Fence Charger
Clamps & Parts
H-Ion Meter
Windmill Tower & Head
Older Vermeer Round Baler
Pull Type Combine
Pipe Rack
Older Implements
Antique Hay Rake w/ Steel Seat, Wooden Hitch
Salvage Caprice Car
6' King Kutter Box Blade
Pickup Bed Trailer
Gooseneck Trailer w/ Dove Tail & Ramps
14' Stock Trailer, Wood Sides
HD Brush Beater, Drag Type
Hoeme Chisel
Plow
Additional Photos
Real Estate Auction Terms
Buyers attending this auction will be required to provide a valid photo ID.  By registering, bidder agrees to all terms and conditions as set forth by Smith & Company Auction & Realty, Inc.  Buyer will be required to sign contract and place 10% of the purchase price in escrow on sale day, with balance due upon proof of marketable title.  Seller will provide a current abstract and warranty deed.  Taxes will be prorated to the day of closing.  Possession upon closing.  Property is selling in its present condition with no warranties expressed or implied.  All information given comes from resources we believe to be reliable but in no way is guaranteed.  Announcements made sale day supersede all prior advertising.  Buyers should arrange financing and satisfy themselves with size, location, boundaries, etc. prior to sale day.  Sellers are reserving all oil, gas, and other mineral rights.  Online Bidders may bid via our website at smithcoauctions.com.  Smith & Company Auction & Realty, Inc. is not responsible for any errors in bids, omissions of bids, or failure to execute bids and shall have no liability to any bidder for any technical or other failure associated with the internet.  On-line Buyer's will be required to wire-transfer 10% of the purchase price to place in escrow on sale day.  ON-LINE REGISTRATION MUST BE COMPLETE AT LEAST 24 HOURS PRIOR TO SALE DAY.