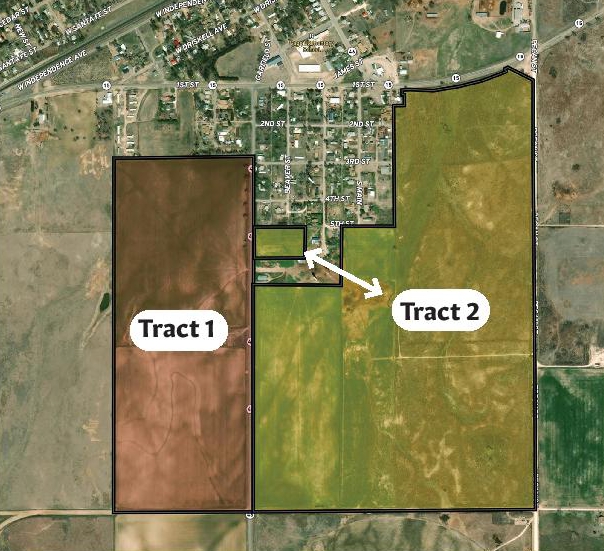 Simulcast / Off-site
Begins:
04/26/2023 10:00 am
Location:
Tom Peer Community Building, 521 N. Main Gage, OK
View Sale Bill
Bid Online
Bidding from a phone or tablet? Try our bidding app!
Auction Preview
To See This Property, Call or Text Ira Smith 580-334-6001 or email ira@smithcoauctions.com.
Land Location
Just south of the intersection on Hwy 15 & Hwy 46 in Gage, Oklahoma.
Auction Description
Tract 1- 97.5 +/- Acres
Legal Description: 77.5± acres in the E/2 SE/4 AND 20± acres in the S/2 SE/4 of the NW/4 of Section 10 T21N R24 WIM, Ellis Co. Oklahoma for a total of 97.5± acres.
This property is cropland with a fenced out hay stock yard near the center. The land lays west of Hwy 46 with Hwy 46 frontage on the east side and county road across on the south. Soil types are Oklark-Otero Complex and Pratt MFN Sand. History of this farm has seen it in alfalfa and wheat. There is an irrigation well on the east side that has not been used for several years, yet the area does have irrigation water.
Tract 2- 190.80 +/- Acres
Legal Description: 71± acres in the W/2 SE/4 of Section 10 T21N R24 WIM, less a 5 acre tract AND 119.91 acres in the E/2 E/2 of Section 10 T21N R24 WIM south of Hwy #15 less 0.23 acre tract & less 0.11 acre tract; less .43 acre tract along Hwy 15 Row to ODOT less .67 acre tract along Hwy ODOT
This farm has 37.8 acres of cropland and the balance in native grass. The land is fenced and the grassland is fenced separate from the cropland. There is county road access on the east and south sides and Hwy frontage on the NE side. There is an operating water well/windmill and stock tank that serves the cropland and grass pasture. Soil types are Otero-Berda Complex and MNSKRPOTR Complex 3. This is a good farm that has an excellent location and plenty of ground water to add many operations.
Seller
Thomas A. and Nancy Woods
Additional Photos