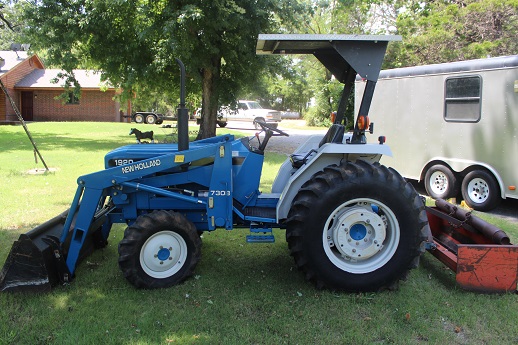 Live-on Site / Simulcast
Begins:
10/05/2019 10:00 am
Location:
5 miles south of 8th St & Hanks Trail, Woodward at the intersection of County Roads 47 & 203.
View Sale Bill
Bid Online
Bidding from a phone or tablet? Try our bidding app!
Auction Description
1998 New Holland 1920 with New Holland Loader, 4wd, 3pt, pto, showing 1007 hrs, SN #Yl294800
1996 F-250XLT, 4×4, 7.5L, Auto, Cold AC, Showing 145,307 mi., VIN #1FTHX26G7TEB80874
1999 Chevy Suburban, 4×4, Auto, Gas, Showing 139,840 mi., VIN #3GKFK16R2XG523370
Rhino 5' Brush Beater
3pt Post Hole Digger
3pt Sprayer, 60 gal.
3pt 2 Bottom Moboard w/Press Wheel
Basket Receiver Hitch
Pickup Air Deflector Wing
Dixon Zero Turn Mower
Trail Master 5×14 ingle Axle Trailer w/Ramp
16' Heavy Duty Utility Trailer, 3500lb Axles
Timpte Semi Van Trailer, year 12-86 VIN# J28025HBO66607
Timpte Semi Van Trailer, year 9-86 VIN #J28017HB065739
Preview
Inspection of items are Friday, Oct. 4th 9:00 a.m. – 6:00 p.m. For more information call Ira Smith at 580-334-6001.
Shipping/Pick-up
Smith & Company will not be responsible for the shipment of any items. Please ensure you have the ability to pick up items BEFORE you bid.
Auctioneer's Note
This is a Simulcast Auction. All Items will Sell both Live and On-Line simultaneously. This auction will begin promptly at 10:00 a.m.
Checkout is immediately following the close of the auction.
These items are the ONLY items available to remove from sale site on sale day.
Additional Photos