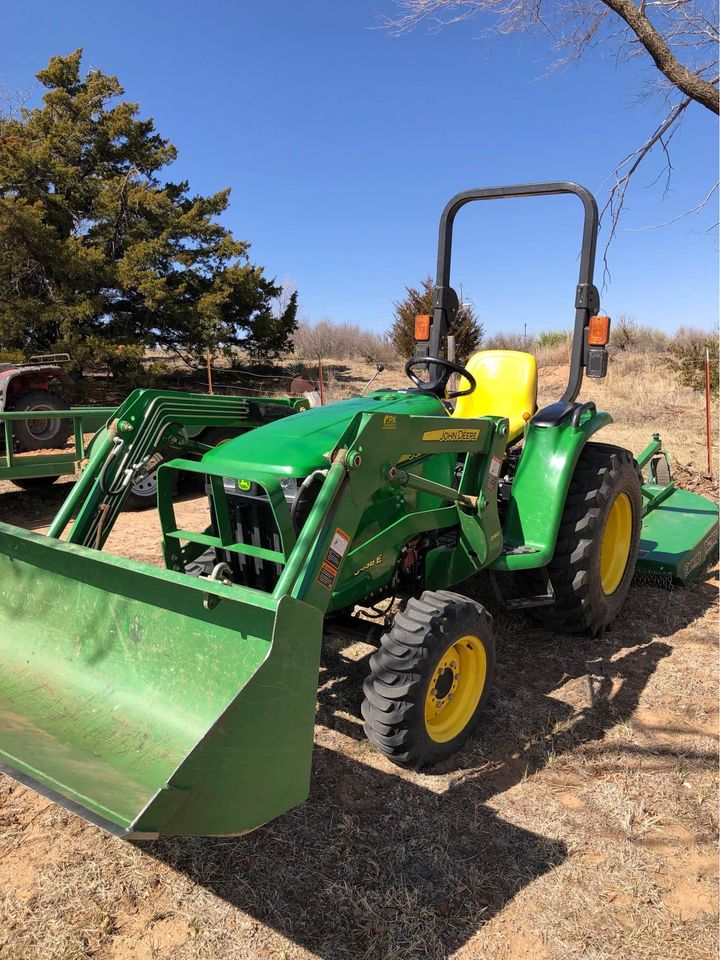 Live-on Site / Simulcast
Begins:
05/06/2023 10:00 am
Location:
Smith & Co. Auction Facility, 10762 US Hwy 412 Mooreland, Oklahoma 73852
View Sale Bill
Bid Online
Bidding from a phone or tablet? Try our bidding app!
Auction Preview
Preview April 17th – May 6th
Mon. – Fri. 8:00 a.m. – 5:00 p.m.
Inspection of items should be done PRIOR to the auction.
Gun Preview Fri., May 5th • 4-6 p.m.
Auction Load-Out
Monday, May 8th – Friday, May 12th from 8:00 a.m. – 5:00 p.m.
LOT WILL BE CLOSED ON SUNDAY, MAY 7th.
Auction Description
**Live auction bidding and live internet bidding. Items will be sold in our climate-controlled facility on digital screens. Equipment displayed on a 6+ acre fenced and rocked yard. **
This is a partial list, more items arriving daily! See Catalog for complete list of items and photos.
GUNS
All Federal and Firearm Laws will be followed. Gun purchasers will be required to provide a valid ID and pass a background check.
Beretta .32cal Tomcat
Black ALES Bullpop 12ga. w/UTG Scope, never fired
Browning Envector BPS 12ga
Browning Rifle BL-22
Canik 9mm w/Flashlight & Laser Combo
CVA 50cal Optima Muzzle Loader
FiBid Modle 28"
Glock 45 Gen 5 9mm with Micro conversion Kit & 50 Round Drum
Kimber 8400.270 WSM
M&P 15-22LR Reflex Scope Flashlight & Laser Combo
Marlin Model XT22 Long Rifle Dart Gun
Master 760 BB Rifle
Mossberg 20ga Pump
Mossberg 715T, 22LR w/Scope
New England Firearms .223cal
Remington 16ga Model 11 on a Browning Pattern
Remington 700, .284 MTD ESS Classic Sightmark w/Scope
Remington 870 12ga
Remington 870 Wingmaster 12ga
Remington Fieldmaster 572 .22cal
Remington Game Master Model 760, 30-06cal
Remington M887 Nitromag 12ga. Pump Action
Remington Model 7600, 30-06cal
Remington Wing master 870, 12ga Shotgun
Ruger 1022
Ruger LC9 9mm
Ruger Mark II 22cal
Ruger Model 1022 w/Scope
Ruger Security 9mm
Savage .308 w/Bull Barrel & Burris 3-9×50 Scope
Savage 30-06 w/Scope
SBR BB Rifle
Super Contender 42mag Handgun, Postal, w/2004 Contender Barrel
TC 50cal Black powder Rifle
TC Black Powder Rifle .54cal w/Simmons Scope
TC Encore Black powder Rifle
Topper 158 HR 20ga
Vet Gun
Winchester 290 .22 Long Rifle
Winchester 63, 22 Long Rifle Super X
CATTLE EQUIPMENT
Cattle Loadout Chute
Cattle Working Chute
Farmstar Creek Feeder
COLLECTOR VEHICLES
1929 Model A Ford 2 Door Sedan
1932 International Truck w/1.5 Ton Stake Bed, Model B-2, Excellent Cond.
VEHICLES
GMC 2500 HD, 4WD
2014 Ford Super Duty F-250, Crew Cab
2014 Ford 150, Crew Cab, 4×4
2014 F-150 Crew Cab, 4WD
2012 Chevy Silverado 3/4 Ton, 4×4
2008 Chevrolet Silverado 1500 LT 4×4 Z71 Crew Cab, showing 185,000 miles
2005 Dodge SLT Daytona, 5.75 Engine, 2WD, Auto
2004 Jeep Wrangler TJ Rubicon
2004 Ford F250 Power stroke Engine w/Farm Bed, showing 135k miles
1997 Ford F-250 HD, Single Cab 4×4,
1987 Ford F-150 2WD, Extended Cab,
1985 Dodge 1 Ton Bucket Truck
LAWN MOWERS
Big Dog 52" low hours
Craftsman 48" Riding Mower, 24hp
2015 Dixon Zero Turn 42" Mower
Dixon Zero Turn Mower
Grass Hopper Zero Turn 721 Mower
2003 Hustler Zero Turn 44" new engine
Kubota Zero Turn 42" Z122R, 21.5hp Kawasaki Engine
Snapper Riding Mower, Hi Vac 28 WOODWORKING EQUIP.
Baker Resaw Machine
TRAILERS
16' Hale GN Stock Trailer, Wood Floor
Spray Rig, 350gal. w/Elec Hose Reel on 10' single axle Trailer
16' GN Equipment Trailer, Tandem Axles, & Dove Tail
16' Texas Bragg Flatbed Utility Trailer
16' WW Alum Bumper Pull Stock Trailer
29' WW Stock Trailer, Rubber Floor, GN
WW Stock Trailer, 20'L x 7'W, GN w/Bow Top, HD Axles, Wood Floor
Semi Trailer/Enclosed Trailer for Hauling Horses
TRACTORS
2017 NH T4 90 W/ Front End Loader,3pt, PTO, Showing 309 hours, Excellent Cond.
2013 Caterpillar 563C Feller Buncher
Farma II Tractor
Hesston L360 Front End Loader
John Deere 8640 4WD Tractor w/ Dozer Blade
2015 John Deere 303E Tractor w/Front End Loader w/5' Brush hog & Box Blade & 18' Utility Trailer
John Deere 200 DLC Trachoe, Starts & Runs
John Deere 4430 w/3pt PTO & Front-End Loader
John Deere 4430 w/JD Front End Loader, pto, Hyd
Kubota M135X Tractor w/Front End Loader, showing 3001.8 hours
Woods Front End Loader
HAY EQUIPMENT
Everett's EZ Haul Round Bale Trailer, 31'
Ferris Bale Loader
Hesston 1160 Swather
John Deere 535 Round Baler
NH Side Delivery Rake
IMPLEMENTS
15' Brush hog Beater
20' Krause Chisel Plow
8' Disc, 3pt
RECREATIONAL
2012 Polaris Ranger 500, Starts & Runs
2014 Polaris Ranger 900XP, Limited Ed.
Polaris Ranger 900 12Fi Crew
Polaris Ranger XP1000
Yamaha Grizzly 350 4-Wheeler
2010 Yamaha 4×4 w/Saddle Bags, Low Miles
Polaris 500 Side x Side
2019 Honda Side x Side, 1 owner
Intimidator 100cc Side x Side, Diesel
2020 TAO 125 4-Wheeler
1995 Ford Motor Home
1999 Excel 5th Wheel Travel Trailer, One Owner
1999 Palm Harbor Trailers Motor Home, 40', Gas Engine, Good Condition
Bethel Triple Axle Toy Hauler, 40', 2 Slides,
Golf Cart, 4 seat, Battery Operated
1995 Bass Tender Boat
1988 Bass Tracker Pontoon Boat
1979 Searay 22' Boat
Additional Photos