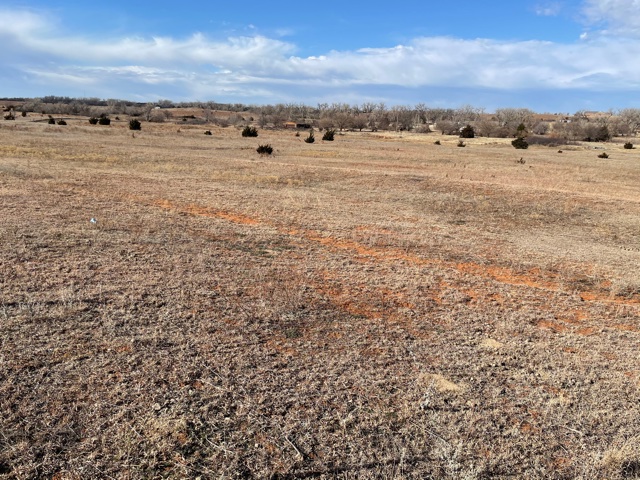 Simulcast
Begins:
04/09/2021 10:00 am
Location:
Woodward County Event Center, 105A Temple Houston Dr, Woodward, OK
View Sale Bill
Bid Online
Bidding from a phone or tablet? Try our bidding app!
Auction Description
Offered in 3 Tracts w/ Hanks Trail & Lakeview Drive Frontage! Located right on the edge of Woodward city limits but not in the city limits.
*Tracts will be offered individually and in combination using the multi-par method of sale.*
Tract 1 – 18.59± acres
This tract has Hanks Trail frontage running along the north side. There is city water and a 40×50 engineered building with two overhead doors and walk-in door. Built in 1978, the building has a HD concrete floor and is insulated and wired. Additionally, there are loafing sheds with corrals and a horse barn with stalls. This tract also has a LIVE CREEK on the land. With access from Lakeview Drive, this is an excellent building site or multiple building site. Don't overlook this property close to Hwy 270, schools, churches, & shopping but outside of city limits!
Tract 2 – 10± acres
With Lakeview Drive frontage, close to town but not in the city limits, this property offers an excellent get-away or building site with lots of room for animals or equipment.
Tract 3 – 11± acres
This tract is another great building site! A live creek on its west side allows recreational opportunities on a get-away property that is out of city limits yet very close to the conveniences of town.
Legal Description
Sec. 7-22-20 39.5904 acre tract in NE beginning 450.67' S of NE/c of SD section on section line; Cont. S 2203.20' to SE/c NE; W(S88j31'39" W) Along S. boundary of NE 685.08'; N(N00j22'14"E) 1753.74'; W(S88j29'19"W) 98.06'; NE'erly (N24j29'10"E) 151.23'; N(N02j28'53"W) 163.99'; E(N88j29'19"E) 44.40';N(N00j22'14"E) 150.03'; W(S88j29'19"W) 197.09'; N450' to a point on N boundary of N; E (N88j29'19" E) along N boundary 479.30'; S 450.67'; E (N88j29'19" E) 388.62' to POB.
Preview
To view the property contact Ira Smith 580-334-6001 or Smith & Company Auction & Realty, Inc at 580-254-3975.
Additional Photos