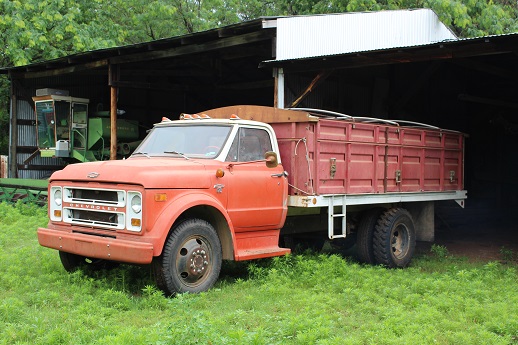 Live-on Site
Begins:
06/22/2019 10:00 am
Location:
Vici, Oklahoma
View Sale Bill
Auction Description
Tractors & Combines
John Deere 4430, 18.4×34 Duals, 3 pt., pto
John Deere 4010, diesel, pto, dozer blade, shedded
John Deere 95 Combine 16' header, runs good
John Deere 95 Combine 18' header, runs great
John Deere 95 Combine (salvage)
Gleaner L Combine
Pickup & Wheat Trucks
1989 Ford F150 XLT Lariat, 4×4, 5.0L, ex cab, bucket seats, 53,000 1-owner miles
1968 Chevrolet C50 Wheat Truck, 18000 original miles, roll-over tarp, 14' bed, shedded
1965 Chevrolet C60 16' Dump Bed, shedded
1997 Ford, 1/2 ton, automatic, 2wd
Implements & Tillage
John Deere 5 Bottom Moldboard semi mount
Allis Chalmers 4 Bottom Moldboard
Krause 1580 18' Tandem Disc, center fold, Degelman Harrows
Krause 3500 18' Chisel, center fold, 3 new tires
Allis Chalmers 26' Field Cultivator w/Noble Harrows, double fold, 4 new tires
Crustbuster Offset Disc 16' rigid, 23" rear, 19.5" front, 4 new tires
Crustbuster 25' Offset Disc
Rotary Hoe 14'
3-Delgelman Mounted Harrow Sections 4' each
10' Speedmover
3 point Planter
10 Wheel Hay Rake
Ford 3pt Backhoe Attachment
John Deere 8640 Wheat Drill
John Deere 25' Disc
Livestock Equipment & Misc.
Rocking B 5×16 Bumper Pull Stock Trailer, shedded
3 Round Bale Feeders
Calf Creep Feeder double sided
Diesel Tank & 12v pump
L Diesel Tank &12v pump
Grainery Sweep w/electric motor
2-16' Grain Augers
Speed King 6"x30' Auger w/gas engine
Oxygen & Acetylene Bottles
3 point Hydraulic Log Splitter
Scrap Iron & Vehicles
Used Steel Post
Directions
6 miles east of Vici or 15 miles west of Seiling on Hwy 60 to CR 214 (Church of Firstborn) then south 1 mile, then 1.75 miles east.
Preview
For more information contact Buck Hutchens at 580-273-3202.
Additional Photos
Personal Property Auction Terms & Conditions
PERSONAL PROPERTY Terms: Smith & Co. Auction & Realty, Inc. is not responsible for any errors in bids, omissions of bids, or failure to execute bids and shall have no liability to any bidder for any technical or other failure associated with the internet. There will be no options for refunds of any type. All sales are final. Cash, check and most major credit cards accepted. Sales tax is applicable unless a valid, current sales tax permit is presented prior to auction. Announcements made sale day supersede all prior advertising. All item s sold in their present condition with no warranties expressed or implied. Final responsibility rests with the buyer to assess the condition of items. It is not possible to adequately describe in text or photos an item that may show use and wear. We recommend you personally inspect all items, or enlist a trusted professional to do so on your behalf. Settlement must be made day of sale.