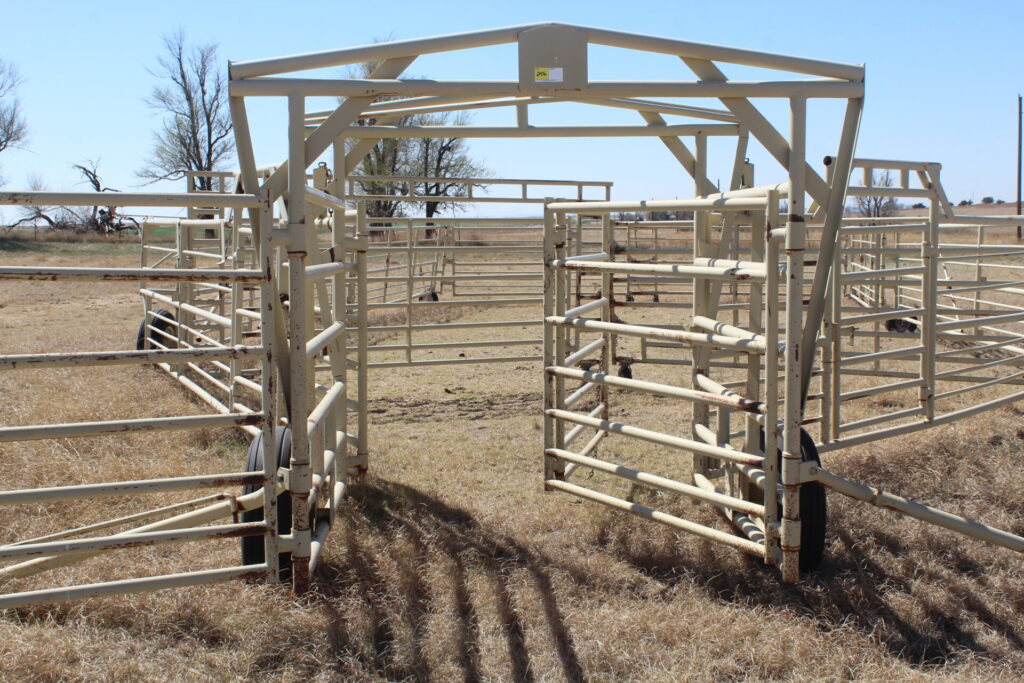 On-Line Only
Begins:
04/07/2023 12:00 am
Ends:
04/19/2023 6:00 pm
Location:
178416 E. County Road 62, Arnett OK
Directions for Lot # 247, 248, 249 & 250 are as follows: From Highway 60, go north on County Road 171 approx. 1.5 miles, turn east on County Road 59 and go 1/4 mile south into.
View Sale Bill
Bid Online
Bidding from a phone or tablet? Try our bidding app!
Auction Preview
Tuesday, April 18th from 4-6 p.m.
Load-Out
Pick-Up / Load-Out is ONE DAY ONLY- Thursday, April 20th 4-6 p.m.
NO SHIPPING or DELIVERY WILL BE OFFERED, ARRANGED OR CONSIDERED.
Auction Description
This Online Only Auction will begin to close Wednesday, April 19th  at 6 p.m. CST.
There will be a 2 minute soft close on each lot. A soft close prevents individuals from entering a bid at the very last second before an auction closes with the intent to prevent others from bidding higher. This means that if a bidder enters a bid within two minutes of the lot's initial closing time, a two-minute extension will be added on. The lot will not close until bidding is static for two minutes.
IF YOU HAVE A TAX NUMBER, PLEASE MAKE NOTE WHEN REGISTERING OR EMAIL US A COPY OF YOUR LICENSE TO ADMIN@SMITHCOAUCTIONS.COM. Otherwise, taxes will be applied to ALL purchases. If you wish to pay via check, that will also need to be noted under 'Auctioneer Notes'.
TIE BIDS: In the event there is a tie 'Max Bid', the item will be awarded to who placed the bid first.
Credit Cards will be processed immediately following the close of the auction unless stated otherwise. A 3% Buyer's Premium will be applied to ALL purchases.
SHIPPING: We DO NOT provide shipping. Please ensure you have the ability to pick-up items BEFORE you bid. NO EXCEPTIONS. Purchases cannot be removed from the auction site until paid for in full.
*Directions for Lot # 247, 248, 249 & 250 are as follows: From Highway 60, go north on County Road 171 approx. 1.5 miles, turn east on County Road 59 and go 1/4 mile south into.*
Over 200 Lots of TRACTORS & IMPLEMENTS • SHOP EQUIPMENT • HUNTING & AMMO SUPPLIES
'83 VENTURA REGAL BOAT w/HERITAGE 3 AXLE TRAILER
ROUND BAIL FEEDER & PARTS
SEVERAL FEED TROUGHS
FILSON SQUEEZE CHUTE w/ STEEL FLOOR
15' SPRING TOOTH DRAG – 15'8" wide – KOVAR MFG
OLD PORTABLE SQUEEZE CHUTE W/WOOD SIDES
A&M AUTOMATIC 3 WAY SUPER HIED HUNTER
DECORATIVE PIPE GATE 12' LONG
DH2596 LAND PRIDE HARRUB – 7'8" wide x 6' long
ALLISON-CHALMERS COMBINE CLEANER BALDWIN
FORKLIFT BASKET
PRIEFERT HEADGATE
ROUND BAIL FEEDER (1 bent panel)
OLD CHEVY TRUCK BED TRAILER
METAL FENCE CORNER POSTS OF VARIOUS SIZES
BIG TEX DOUBLE AXLE UTILITY TRAILER 20'
COMBINE DEUTZ-ALLIS GLEANER 6064
SEVERAL OVERHEAD FUEL TANKS ON STANDS
20 TON OVERHEAD CAKE BIN
RHINO 184 BRUSH B EATER 7'5"W x 10'L w/ WHEEL
MY-D HAN-D DRILL FILL AUGER, HYDRAULIC
40 GALLON SPRAY TANK w/ BOOM
1996 GMC 1500 4X4 FLAT BED TRUCK
6' LOADING RAMPS, 5 STAR (1 hinge broken)
BLACKMAX 3100psi PRESSURE WASHER 2.5 GPM
TWISTER POWER VACUUM MULTI POWER
STORM DOORS
WEATHER GUARD TRUCK / TRAILER TOOL BOX
STIHL CIRCULAR SAW BLADES 200mm / 7.9
MISC LOT OF CHAIN, CHICKEN FEEDER, SEVERAL SHOP VACS
DRUM FAN & BARREL FAN
DEWALT ELECTRIC VACUUM #DC500, WORKING
CRAFTSMAN 26GAL 1.5hp AIR COMPRESSOR
SHOVELS, PROPANE TANKS, HYDRAULIC HOSE
STIHL 026 CHAIN SAW (Oil Leak )
MASTER 135,000 BTu HEATER MH-135T-KFA
SHOP EQUIPMENT & HUNTING DECOYS
RAVEN AUTOMATIC TRAP
MILK CAN GARDEN SUPPLIES, HAND TOOLS, HOSE STAND HUNTING DECOYS
FOLDING CAMPING SINK TABLE
WINCH
US GENERAL MOBILE SHOP STORAGE TABLE
SHOP EQUIPMENT
OIL FILTERS
BLACK & DECKER BATTERY OPERATED TOOLS
PRECISION CONTROL ARMS PRE8CB50531
POWER TORQUE CLUTCH PTQ K1877-09 314
PROPANE TANK 4' TALL
METAL TORCH DOLLY & HOSES, GAUGES, TORCH
LINCOLN ELEC WELDER
OLD SINCLAIR TABLE
SOCKET SET MIX BRAND
PEERSON HUNTING BLIND & FOLDING CHAIR
5 BOXES OF WELDING RODS
66 POWERMASTER BB RIFLE
3pt BAIL SPIKE, 2 SPEAR UNIT
HONDA MULTI POWER AIR COMPRESSOR
LARGE METAL 2 WHEEL DOLLY
SEVERAL TOOL BOXES w/ MISC. TOOLS
COLLECTORS ITEMS – MOBIL OIL TIN, HUB CAPS – FORD, APACHE, CHEVROLET
WELDING WIRES & CORDS
DEWALT CHOP SAW
5 SPEED DRILL PRESS NW-1005
SEVERAL LOTS OF AMMO, VARIOUS GAUGES
DUCK CALL, TURKEY CALL
PAINT BALL MARKERS
SEVERAL LOTS OF MISC. BINOCULARS
SEVERAL LOTS OF MISC. POCKET KNIVES
WINCHESTER 2003 LIMITED EDITION KNIFE SET
RYOBI BATTERY OPERATED HAND TOOLS
BOSH JIGSAW, ELECTRIC
BLACK & DECKER BATT DRILL & 2 BATTERIES
MACPHERSON STRUT SPRING COMPRESSOR
SHOOTING TABLE & CONTENTS
GREASE GUNS, SHOP DROP LIGHTS
OLD CASH REGISTER
OUTDOOR PROPANE HEATER & EXTRA TANK
SEVERAL FISHING POLES & REELS & WATER JUG
2 HUNTING BOWS & 1 BAG
KEY FRIDGE
WOOD GUN CABINET
SKILL ROUTER TABLE
SEVERAL WOOD SHOP BENCHES
SKILL SAW TABLE SAW 3310 & CONTENTS
CONTINENTAL EQUIP. 30 TON
SHOP PRESS
3 ROLLS OF BARBED WIRE
SEVERAL DEER FEEDERS, STANDS, ETC.
METAL HAY FEEDER
VINTAGE DECOR – COLEMAN COOLER – SIGN
CHICKEN TRACTOR 7'LONG X 4' WIDE
A&L AUGER w/ ELECTRIC MOTOR
CHICKEN COOP w/ RUN
1969 CHEVROLET WHEAT TRUCK w/ STEEL BED
2014 CHEVY DURAMAX 3500 HD FLAT BED
CRAFTMAN HD 17 REARTINE TILLER
POLARIS TRAIL BLAZER
GREEN HOUSE
NITRO BOAT – 188 SPORT w/ TRAILER
3PT POST HOLE DIGGER – VASSAR 9.196.009
GRAIN CADDY
LOWE LINE BOAT & TRAILER
METER HOUSE / DEER BLIND
WHIRLPOOL WASHER & AMANA DRYER
4 – 10' FENCE PANELS, 2 GATES
GRAIN CADDY GLEANER
FORD 4630 TURBO
JOHN DEERE 8300 DRILL
FLEX KING OFFSET DISC 16' FULL SPAN
FLEXKING SWEEP PLOW w/ PICKERS 17'W
1982 GMC WHEAT TRUCK w/DIAMOND
STEEL FLOOR
MOBILE STORAGE BUILDING
CENTURION GUN SAFE BY LIBERTY & CONTENTS
BREAKAWAY SABOTS MUZZLELOADER
BULLETS & SABOTS
WILSON PORTABLE WHEEL CORRALS
JOHN DEERE 6600 HYDROSTATIC COMBINE
CHISEL PLOW 16' WIDE
RICHARDSON AD FLEX STUBBLE MULCH PLOW 14'
Seller
The Estate of Randy Knowles
Personal Property Auction Terms & Conditions
PERSONAL PROPERTY Terms: Smith & Co. Auction & Realty, Inc. is not responsible for any errors in bids, omissions of bids, or failure to execute bids and shall have no liability to any bidder for any technical or other failure associated with the internet. There will be no options for refunds of any type. All sales are final. Cash, check and most major credit cards accepted. Sales tax is applicable unless a valid, current sales tax permit is presented prior to auction. Announcements made sale day supersede all prior advertising. All item s sold in their present condition with no warranties expressed or implied. Final responsibility rests with the buyer to assess the condition of items. It is not possible to adequately describe in text or photos an item that may show use and wear. We recommend you personally inspect all items, or enlist a trusted professional to do so on your behalf. Settlement must be made day of sale.