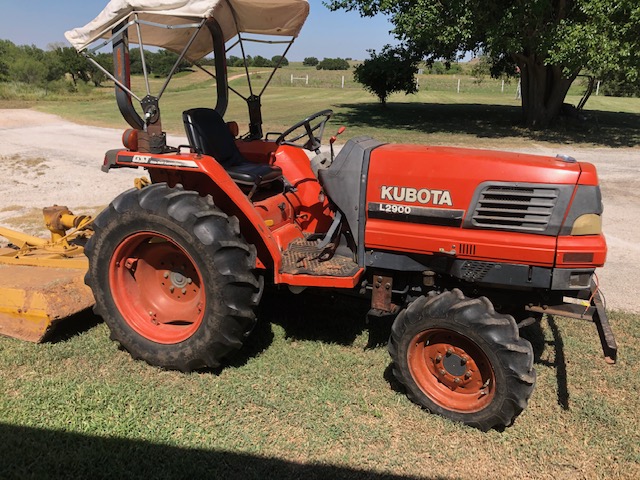 Live-on Site
Begins:
09/21/2019 10:00 am
Location:
Broken Arrow Ranch, Hwy 412 & Co. Rd 228, Mooreland, OK
View Sale Bill
Bid Online
Bidding from a phone or tablet? Try our bidding app!
Auction Description
Tools & Workshop
Vise
Barrel Pumps
Bolts & Nails
B&D Grinders
Hand Tools
Saws
Grease Guns
Shop Vac
Jacks
Tires
Wheels
Tire Chains
Shovels
Picks
Hitches
Gear Pullers
Pipe Wrenches
Homemade Anvil
110 Gallon Fuel Tank for Electric Pump
Steel Fence Posts
Electric Fence Posts
Fence Stretchers
Bench Grinder on Stand
Bench – made of steel frame & steel wheels
Steel Shop Table w/Vise
Welding Helmets
Scrap Iron
Several Joints of 2 3/8" Pipe
Steel Shelving
Jack Stands-6
Gas Powered Sprayer
Makita Cut-off Saw on Stand
Torch Cart
3/4" socket set
Several sets of Wrenches
Electric Grinder
Radial Arm Saw
Air Compressor
Battery Charger
Equipment
16' Utility Trailer w/Steel Floor,
Servis Beater E60, good cond.
3pt. Scoop
3pt Backblade
3pt Springtooth
2 Row Ferguson Lister
Servis Beater
3pt Cultivator
Elco Gas Powered Saw to cut small trees
DR Cedar Tree Cutter
Hustler Zero Turn Mower, 52" Deck, Raptor
Craftsman Weed Eater
Pull Type Sprayer, 25 Gallon
1 Ton Cherry Picker, Hydraulic
Halogen Lights
5500-Watt Generator, Gas
Craftsman Power Washer, Gas
Chainsaw
1000-Watt Generator
Lincoln 225amp Shop Welder w/Extra Long Leads
Trailer Mounted Spray Rig w/200-gal Tank, Gas Engine
Antiques
1 Row Lister
Pitcher Pump
Pot Belly Stove
Cast Iron Pot
Antique Forge
Cane Pole
Tonka Toys
Steel Wheel Wagon
Several Antique Saws
Old Fishing Lures
Bamboo Fishing Rod
Left-Handed Walk-Behind Plow
Miscellaneous
Fishing Items
Fish Cookers
Deer Feeder
Calf Pullers
Ropes & Bridles
2 Bicycles
Yard Fertilizer Spreader
Household Items
Couch
3 Recliners
Metal Desk
Kitchen Items
Heaters
Hoses
Small Appliances
Household Furniture
*On-Line Items Will Sell at 12:00 p.m. (Noon)*
PICK-UP / TRACTORS
2008 Dodge 1 Ton Cummins Diesel, New Turbo 4×4, Crew Cab, Duals, Auto, Tool Box, Fuel Tank, Bully Step, B&W Hide-a-Ball, Bed Liner, Showing 76,800 mi.
1949 F700 Ford Truck w/ V8 Engine, 330, Hydraulic Lift, w/ 14' Bed, Starts & Runs Good
Ferguson 50 Tractor w/ 3pt & PTO
1949 WD Allis-Chalmers, Restored, Excellent Cond., Engine Overhaul & New Tires, New Paint
HD Kubota L2900 Tractor w/ 2126 hrs, Diesel, FWA, Glide Shift Trans, been in shed
Auction Location
From Waynoka go 7 miles south on Hwy 281 to Co. Rd 380 then 3 3/4 miles west then 1/2 mile south on Co. Rd. 228 to sale site. From Mooreland go: 14 miles east on Hwy 412 to Co. Rd. 228. Go 4 miles north to sale site.
Preview
For more information contact Ira Smith at 580-334-6001 or 580-254-3975.
Auctioneers Note
We consider it a privilege to sell Dean's items, all in good condition and very well cared for.
Additional Photos