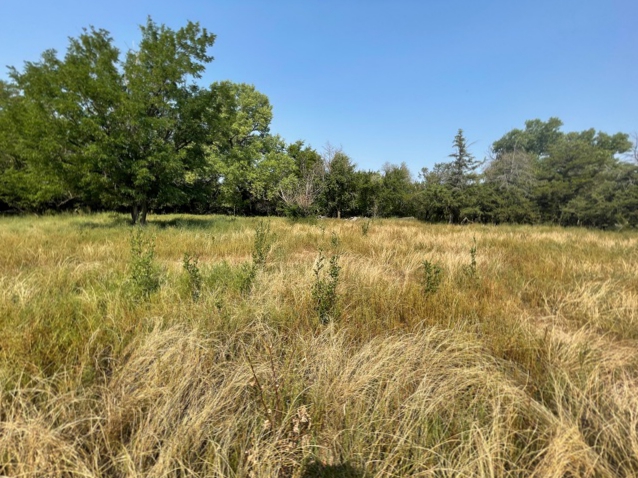 Simulcast
Begins:
09/29/2021 10:00 am
Location:
171068 E. CR 49, Shattuck, OK
View Sale Bill
Bid Online
Bidding from a phone or tablet? Try our bidding app!
Legal Description
W2 SW4 of Section 11 T21N R26 WIM, Ellis County, Oklahoma.
Land Location
From Shattuck go 1.1 mile north on the Highway and then go west on County Road 49 OR what the locals call the "Braum's Blacktop" go 4.4 miles west and then north into. Look for the auction directional signs!
Auction Description
The epitome of peace and quiet, this property has a LOT to offer! The home sits close to a creek and provides a very desirable, peaceful sitting. The 2007 Solitaire is a 3 bedroom, 2 bath with a large covered patio and a lean-to that is the full length of the home which allows room for 2-3 vehicles and covered access to the home. There is 1,568± sq. ft. of living space and the home is in good condition. In addition, there is a steel constructed shop building with sliding door access on the east and south. The west end of the building is wood construction and the rest is steel. This is a very nice shop building with overhead doors and an office/work area. In the backyard, there is a large storm basement with a covered entrance and an enclosed pool room 30'x40′ that includes a bathroom. On the west side of the home, across the drive, is a building that serves the well house and general storage. This home site is secluded and cannot be seen from the very well-kept blacktop, county road 49. The privacy is like a little oasis setting. The creek runs on the west side of the property and provides several beautiful trees. The majority of the road coming into the property is hard surfaced and there is an electric meter and runners for a mobile home setting south of the main home site. The land is native grass with a rolling type terrain NE of the homesite is a big bottom with improved and mature grass this area could easily be a farm ground for cattle or wildlife. There is a water well at the home with several freeze hydrants around the home providing livestock water.
Preview
Open House Thursday, Sept. 9th & Thursday, Sept. 16th from  4 – 6 p.m. or call Ira Smith at 580-334-6001 to schedule a private tour.
Online Only Personal Property
*Over 200 Lots Being Sold – This is a Partial List Only!*
Bids Close: Thursday, Sept 30th 12 p.m. CST
Load Out: Friday, Oct. 1st 9 a.m. – 5 p.m.
Personal Property Preview
Thursday, Sept. 9th 4-6 p.m. & Thursday, Sept. 16th 4-6 p.m.
Personal Property Description
FURNITURE
Patio Table & Chairs
Bench Swing
End Table
Love Seat
Leather Recliner
RCA TV & Stand
Coffee Table
Electric Lift Chair
Queen Size Bed
Chest of Drawers
Wood Gun Cabinet
File Cabinet
IMPLEMENTS
3pt Angle Blade
Brush Guard
4 Bottom Moboard
2 Row Planter
TRAILERS
Puma Travel Trailer
16′ Car Hauler
12′ Utility Trailer
Pick-up Bed Trailer
Single Axle Stock Trailer
PICK-UPS
2003 F-350 Super Duty
1986 Ford F7000
LIVESTOCK EQUIP/SUPPLIES
2 Feed Troughs
Round Bale Feeders
Backhoe Attachment
Vet Supplies & Taggers
Steel Hay Feeder
Hay Rack
Calf Feeder
LAWN MOWERS
Hustler Raptor 52″
John Deere 317 Mower
Snapper Push Mower
TRACTOR
Ford 1720 w/ Front End Loader
TOOLS & EQUIPMENT
Coats Tire Changer
Iron Horse Air Compressor
Arc Welders
Craftsman Dble Stack ToolBox
Tool Boxes
Wrenches
Sockets
Screw Drivers
Jack Stands
Toro Porta-Heat Heater
Flow-Pro Fan
Hi Quality 30-ton Press
Black Hawke Drill Press
Craftsman Shop Vac
2 Ton Floor Jack
Battery Charger
Air Tank
Boomers
Oxygen & Acetylene Bottles
Conduit benders
Dewalt Chop Saw
Pipe Wrenches
Sledge Hammers
Bench Grinder
Transmission Jack
T-Post Puller
Chain Saws
Battery Dolly
Pry Bars
Circular Saw
Chain Hoist
Misc. Oil
Grease Guns
Fuel Cans
Skilsaws
Jig Saw
Reciprisaw
Grinder
Air Tools
Air Nailer
Table Saw
MISCELLANEOUS
Dog Crate
Char Broil Gas Grill
Cast Iron Skillet
Weed Eaters
Horse Tack
Fence Charger
Meat Slicer
Wood Stove
Mini Fridge
Trunk w/Sports Cards
Tires & Rims
Wagon Wheels
Milk Cans
Washer & Dryer
Standing Freezer
Western Pictures
Candle Holders
Decanters
Saddle Blankets
Horse Blanket
Rods & Reels
Tacklebox
Golf Clubs
Bicycles
Mirror
Lamps
Desk
Lockers
Hat Rack
Tea Pots
Oil Lamps
Gazebo
Glassware
Rugs
Wall Clocks
Buckles
Binoculars
Lighters
Wheel Barrow
Saddles
Additional Photos