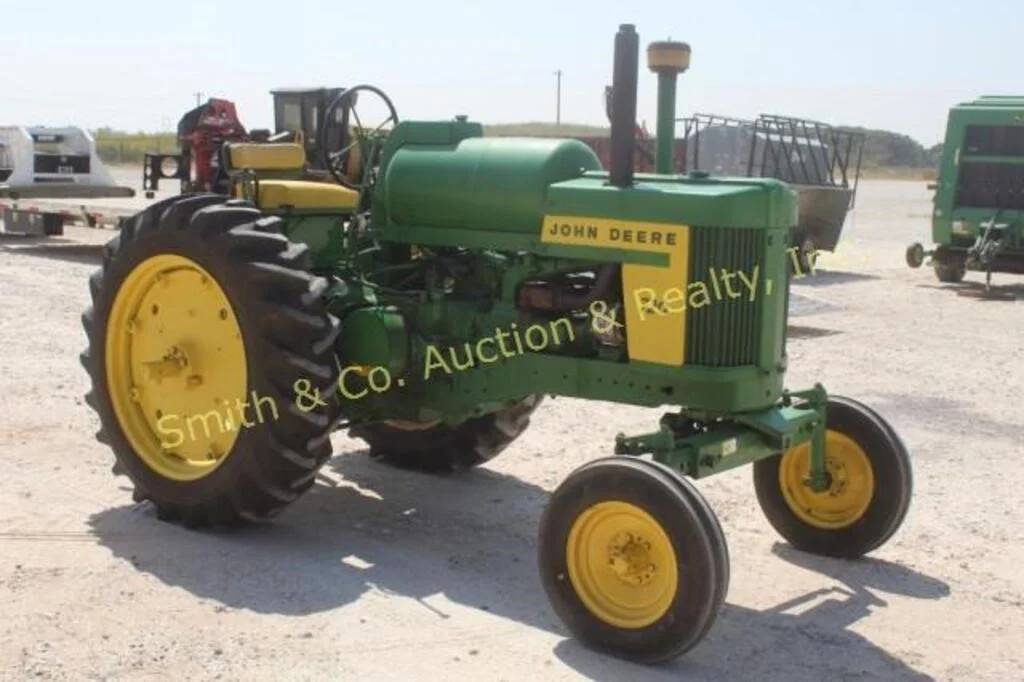 Simulcast
Begins:
09/30/2023 10:00 am
Location:
Smith & Co. Auction Facility, 10762 US Hwy 412, Mooreland, OK 73852
View Sale Bill
Bid Online
Bidding from a phone or tablet? Try our bidding app!
AUCTION PREVIEW
Preview September 4th – September 30th
Monday – Friday from 8:30 a.m. – 5:00 p.m.
Inspection of items should be done PRIOR to the auction.
AUCTION LOAD-OUT
Monday, October 2nd – Friday, October 6th from 8:00 a.m. – 5:00 p.m.
LOT WILL BE CLOSED ON SUNDAY, OCT. 1ST
AUCTION DESCRIPTION
**Live auction bidding and live internet bidding. Items will be sold in our climate-controlled facility on digital screens. Equipment displayed on a 6+ acre fenced and rocked yard. **
This is a partial list, more items arriving daily! See Catalog for complete list of items and photos.
ATV / UTILITY / RECREATION
2012 Yamaha 6 Passenger Golf Cart w/Lift Kit
2006 Polaris Ranger 500 Side-By-Side, 4 x 4, Showing 414.5 Hours
Honda Rancher ES 4×4 4-Wheeler Showing 680 hrs, 3,584 miles
1994 Wilderness 5th Wheel Camper
1995 Suzuki 125 Motorcycle, Runs
FARM EQUIPMENT
JD 8300 Grain Drill
King Kutter 3pt Disc
LIVESTOCK EQUPMENT
Return Roping Chute
Stampede Squeeze Chute with Self-Catch Headgate
24' HD Freestanding Cattle Panels
TRACTORS
NH TV 145 Bi Directional Tractor, in good condition, showing 1,250 hours
2 – JD 720 Tractors, Propane, 3pt
JD 4430 Tractor w/Front End Loader
NH T6070 w/Front End Loader, 3pt, PTO Showing 1700 hours
JD 2020 Tractor, 3pt, PTO
HAY EQUIPMENT
New Holland 575 Small Square Hay Bailer
Bale Spike
Maxey Hay Dolly
INDUSTRIAL
1997 Mack A7000 Schwarze Street Sweeper
PICKUPS / SEMIS / VEHICLES
1967 Chevrolet Grain Truck w/ Auger Showing 49,868 miles
1985 Chevy Silverado 4×4, Showing 92,460 miles
1989 GMC Sierra SL 2500, Showing 80,524 miles
2011 F-250 Crew Cab 4×4 w/Butler Spoke Bed, Gas, Showing 180k miles
F350 Single Cab, Gas, Auto
C60 Truck w/427 Engine Air Brakes, Good Rollover Tarp
2006 F150 Ext. Cab, 2WD, Runs
1988 Jeep Wrangler
1991 Ford Bronco
SKIDSTEER & ATTACHMENTS
Bobcat S250 Turbo Skidsteer w/ Bucket
Gehl Skid Steer, Diesel, Single Hydraulics
Skidsteer Rock Bucket
Skidsteer Smooth Bucket
Skidsteer Brush Rake
Skidsteer Steel Tracks
LAWN MOWERS
2010 John Deere 48" Riding Mower
John Deere 214 50" Riding Mower
2352 Brushhog Zero Turn Mower
TRAILERS
8' x 16' Dual Axle Trailer
2014 Norris Utility Trailer, 7'3 x 18'3" Dual Axle
20' Gooseneck Trailer
18' Texas Brag Utility Trailer, Like New
2002 5' x 8' WW Enclosed Trailer, Wood Floor
DJ Trailer 45' 5th Wheel Car Hauler
24' Gooseneck Stock Trailer
24' x 5' Stock Trailer w/ Wood Floor
2002 18' Load Trail Car Hauler w/7000# Axles
2002 Featherlite Bumper Pull Stock Trailer, Rubber Floor, 6'7" x 16' long
2006 Big Tow Bumper Pull Car Hauler with Ramps, 12' Wood Floor
2022 Lonestar 40' GN Flatbed
2017 WW 10' x 6' Stock Trailer, Tandem Axles
1988 Hart Bumper Pull 2 Horse Trailer
MISC.
Marshall Tree Saw with Bobcat Attachment
24' Free Standing Cattle Panels
10' Speed Mover
Grapple Bucket
ADDITIONAL PHOTOS