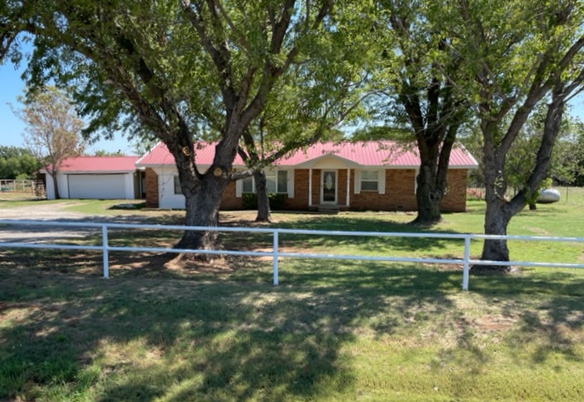 Live-on Site / Simulcast
Begins:
10/01/2022 10:00 am
Location:
61482 N. 2310 Rd, Seiling, OK 73663
View Sale Bill
Bid Online
Bidding from a phone or tablet? Try our bidding app!
Tract 1 Description
Click Here to See Virtual Tour!
Legal Description: #18 & #19 TR IN SW COR NW4, SEC. 14-19-16 ACCESSION# IA-0517-187 269/325 329/224 369/147 1127/557 TR 1-BEG @ SW COR NW4, N 417′,E 625′,S 417′,W 625′ TO POB. TR 2- BEG @ SW COR NW4,TH E 695′, N 417′,W 695′, S 417′ TO POB, Dewey County, Oklahoma.
Location:
From Seiling, OK go 2 miles east on County Road 60/Indian Road then south 1.1 miles on County Road 2310.
**Please Note: If you are having a hard time finding the property, go to your 'Maps' or 'Google Maps' app and enter the following coordinates (36.1226983, -98.8848107). These coordinates will take you to the correct location without any issues. 
A 4 bedroom, 3 bath home on 12.65 acres with a shop, corrals, other pens and outbuildings. The home has 2,332 m/l sq. ft. of living space which includes a very large family room, formal living room, kitchen and dining area. The family room has atrium style doors on the north and south sides that allow access to the covered patio and the backyard. In the backyard you will find a covered Koi Pond, a storm cellar and garage. The home also has a Generac generator system.
The big shop building has doors on the south end and a lean to on both sides. On the east side of the shop building, there are livestock working facilities and the west side is equipped for an RV or equipment storage. The lean to on both the east and west sides are the full length of the building. The steel corrals that are on both sides of this building are under the wrap around. The north side with a round pen included and several pens. To the east of the home is a barn for more storage, several sets of pens for small animals and a nice setup for chickens or birds. This tract of land is fenced, has its own water well, 2 draws with lots of trees, an intermittent creek system and a good grass patch in between.
Tract 2 Description
Legal Description: The SW/4 of Section 11 T19N R16WIM, Dewey County, Oklahoma.
Land Location: From Seiling, OK go 2 miles east on County Road 60/Indian Road then south 3/4 a mile on County Road 2310.
Located just ¾ of a mile south on blacktop County Road 2310 with ½ mile of frontage.
The land is a good Native Grass farm and fenced on all four sides. You will find several good home sites just 2.5 miles from Seiling on all paved roads. There is a water well and electricity on the south end of the land with steel corrals. On the east side is an open draw with trees, lots of wildlife habitat and a pond dam. This is an excellent opportunity to buy good land with a great location!
Preview
Open House Thursday, Sept. 22nd from 4-6 p.m. 
For more info or to schedule a private showing, call/text Ira Smith at 580-334-6001.
Additional Photos- Tract 1
Additional Photos- Tract 2
Real Estate Auction Terms
Buyers attending this auction will be required to provide a valid photo ID.  By registering, bidder agrees to all terms and conditions as set forth by Smith & Company Auction & Realty, Inc.  Buyer will be required to sign contract and place 10% of the purchase price in escrow on sale day, with balance due upon proof of marketable title.  Seller will provide a current abstract and warranty deed.  Taxes will be prorated to the day of closing.  Possession upon closing.  Property is selling in its present condition with no warranties expressed or implied.  All information given comes from resources we believe to be reliable but in no way is guaranteed.  Announcements made sale day supersede all prior advertising.  Buyers should arrange financing and satisfy themselves with size, location, boundaries, etc. prior to sale day.  Sellers are reserving all oil, gas, and other mineral rights.  Online Bidders may bid via our website at smithcoauctions.com.  Smith & Company Auction & Realty, Inc. is not responsible for any errors in bids, omissions of bids, or failure to execute bids and shall have no liability to any bidder for any technical or other failure associated with the internet.  On-line Buyer's will be required to wire-transfer 10% of the purchase price to place in escrow on sale day.  ON-LINE REGISTRATION MUST BE COMPLETE AT LEAST 24 HOURS PRIOR TO SALE DAY.