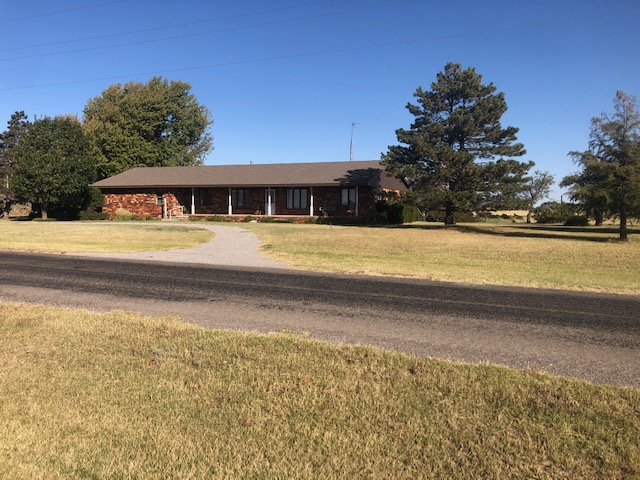 Live-on Site / Simulcast
Begins:
05/07/2021 10:00 am
Location:
216624 E. County Road 54, Mutual, OK
View Sale Bill
Bid Online
Bidding from a phone or tablet? Try our bidding app!
Auction Description
Tract 1- Custom Built Home and Improvement on 15± acres
This one-owner home was built in 1978 by Mr. & Mrs. Gerald Cooper. The custom-built home consists of 2,229± sq. ft. of living space and has an attached 2 car garage. There are 3 bedrooms 2½ bathrooms, a large utility room, a large living room, and a family room complete with a wood burning fireplace. The kitchen is just off the family room and looks north across the beautiful farm. The home also boasts a large basement that runs the full length of the home and half the width!
Tract 2- 145± acre reputation farm that offers first class soil
The farm is a first class level soil with 50± acres of cropland and the balance in Bermuda grass and a native mix. The exterior fences are good and the farm is cross fenced with electric fences.
Improvements
38′ x 60′ SHOP BUILDING – This building has a concrete floor and is wired for 110V & 220V. There is an overhead door, a walk-in door, 2 large sliding doors on the west and a small sliding door on the south.
FEED BUILDING – This property is set up to process your own feed with a building that houses a Davis
Krimper Kracker roller mill for all shelled grains. On the west side of this building are two 2,500 bushel grain bins, hoppered, with augers that feed into the roller mill. On the east side of the building are two 750± bushel hoppered grain bins with augers and a 10′ x 50′ in-ground 100,000 in-ground seale system (see website pictures).
GRAIN BIN BUILDING – In 1950, Mr. Cooper's family built a building with three 2,000 bushel grain bins.
MACHINERY BARN – As if the other three buildings aren't enough, there is also a 50′ x 150′ barn that houses machinery, livestock and hay with several doors on the end and sides.
Tract 3- Combination of Tracts 1 & 2
Custom Built Home and Improvements on 160± acres
Auctioneer Notes
Tracts will be Offered Individually and in Combination.
PERSONAL PROPERTY SELLS ON SAT., MAY 8TH MARK YOUR CALENDAR!
Preview
To see this property or schedule a showing, please call Ira Smith 580-334-6001 or via email: ira@smithcoauctions.com
Additional Photos
Real Estate Auction Terms
Buyers attending this auction will be required to provide a valid photo ID.  By registering, bidder agrees to all terms and conditions as set forth by Smith & Company Auction & Realty, Inc.  Buyer will be required to sign contract and place 10% of the purchase price in escrow on sale day, with balance due upon proof of marketable title.  Seller will provide a current abstract and warranty deed.  Taxes will be prorated to the day of closing.  Possession upon closing.  Property is selling in its present condition with no warranties expressed or implied.  All information given comes from resources we believe to be reliable but in no way is guaranteed.  Announcements made sale day supersede all prior advertising.  Buyers should arrange financing and satisfy themselves with size, location, boundaries, etc. prior to sale day.  Sellers are reserving all oil, gas, and other mineral rights.  Online Bidders may bid via our website at smithcoauctions.com.  Smith & Company Auction & Realty, Inc. is not responsible for any errors in bids, omissions of bids, or failure to execute bids and shall have no liability to any bidder for any technical or other failure associated with the internet.  On-line Buyer's will be required to wire-transfer 10% of the purchase price to place in escrow on sale day.  ON-LINE REGISTRATION MUST BE COMPLETE AT LEAST 24 HOURS PRIOR TO SALE DAY.