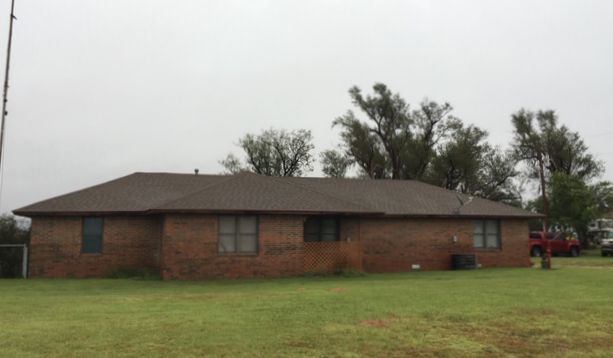 Estate & Personal Property
Begins:
05/04/2019 10:00 am
Ends:
05/04/2019 2:00 pm
Location:
48668 S. County Rd. 214 Mutual, OK 73853
Bid Online
Bidding from a phone or tablet? Try our bidding app!
Auction Description
Selling Brick Home on 30± Acres with Horse Barn!
Home & 30± Acres with Horse Barn!
LAND LOCATION: From Mooreland at Hwy 50 & 412 go south on Hwy 50 for 8 miles then east on county road 48 for 2 miles then south on county road 214 for 2/10 mile.
LEGAL DESCRIPTION: A tract of land in the N/2SW of Section 12 T21N R19 WIM, Woodward Co; described as beginning at the SW/c of N/SW (said part being 1319.13'N of SW/c); then N 544.10' E 1318'; S 103.32'; E 1328' to a point on 1/4 section line; then S 466.73' to SE/c of N/2SW; then W 2645.06' to POB. Deed shows that tract contains 30.083 acres.
This 30± Acre Tract of land is located in the Moscow Flats area south of Mooreland and north of Mutual or SE of Woodward on Highway 270. There is a full brick home with approx. 1950 sq. ft. of living space on the property. The home is 4 bedroom and 2 bath that includes a large master bedroom with a walk-in closet and master bathroom. The home has central H/A. There is a detached two car garage and also a horse barn that accompanies the brick home. The horse barn has 4 stalls with runs, a tack room, and a stall with stanchion. There are sliding doors on the north and south sides. This is an excellent building.
Personal Property Sells Immediately Following Land
(personal property offered on-line is indicated with a *)
HORSES
•6 yr. old Gelding Horse
•20 yr. old Tennessee Walking Horse
SADDLES & MISC.
•Queen Wallet Mule Saddle
•16 1/2" Australian Saddle
•Renz Saddle
•2 Misc. Saddles
•Tack Blanket
•Bridle, etc.
FARM EQUIPMENT
•WW Portable Squeeze Chute w/Self Catch Gate
•Wire Cattle Panels
TRAILERS
*2002 Exiss XT/400 4 Horse Slant Trailer with Collapsible Tack Quarters & Awning
•Aluminum 3 Horse Trailer, fire damage on front
•2 – 5×16 Stock Trailers w/Full Tops
HAY
•50 Round Bales Bermuda Grass Hay, 7yr old
•150 Square Bales of Bermuda Grass Hay, Shedded, 7 yr. old
IMPLEMENTS
•6' Woods Brushbull Beater
*JD 476 Round Baler, Megawide w/Net, Showing 10,500 on monitor
•3pt Cultivator
•4' King Kutter Box Blade 3pt w/Rippers
•New Holland Hay Rake 7', Ground Driven
•3pt Sprayer, 120 Gal., PTO Pump, Nozzle & Wand
•New Holland 90Z Self Propelled Swather
•6' Drag Harrow, like new
•JD Square Baler 224 Wire Tie
TRACTORS
*Kubota M6040 Tractor, Hyd. Shuttle Shift, LA1153 Loader, 3pt, PTO, Showing 546 hours
*JD 4040 Tractor 3pt, PTO 540 & 1000, 2 Hyd, Nice Clean Tractor, Showing 8632 hours
*Ford 4000 Tractor Select 6 Speed, Diesel, 3pt, PTO
MISCELLANEOUS
•Ford 3pt Post Hole Digger
•Round Pen Tarter – 14 Panels & Gate
•Several 8' Posts
•Stack of Creosote Posts (60-5" and 4-8")
•8' Single Wheel Feeder, Sooner Welding
•Fiberglass Tool Box
•6 Powder River Gates
•12' Fiberglass Ladder
•4-16" Tires & Wheels
•3-55 Gallon Drums
•Yard Furniture
*Polaris EV LSV, 29 Hours
Sellers: Tom & Carolyn McLarty
Preview
For more information about this property contact Ira Smith at 580-334-6001.
Additional Photos